EDITORIAL
The Ross Clark profile appears in this edition. Scroll down to view most content.
Visit the CALENDAR and FESTIVALS pages.
A NEW TUNE this month from David Jacobs See the TUNES pages.
See the FESTIVALS page for details of upcoming festivals and gatherings.
Check out the offerings of the various clubs, Tunes and the Woodfordia environmental announcements.
Happy Reading! Michael Bourne
My apologies for the late upload and minimal content - see the Calendar and Clubs pages. I've been moving home.
A special thankyou to those who helped me.
For the Folk Rag
---
- MAY -
---
NEW PUB SESSION OPPORTUNITY IN IPSWICH
My partner and I manage the Coronation Hotel 61 Tiger Street, West Ipswich QLD, and we are wondering if a person or a group might be interested in holding a regular social folk music session at our pub. Please call Kenneth Weaver at 0435920440.
---

THE WEST END SESSIONS
Featuring - Kristina Olsen (USA) + Gone Molly
at cnr Vulture & Sussex Sts, West End, Brisbane. (in the old Uniting Church)
Friday MAY 5, at 7pm - 9pm
$30/25 at door - ($25/20 ONLINE before the show).
BOOKINGS (Online sales close 5.00pm on day of show)
ALL AGES (with an adult supervisor), alcohol-free. Family tickets available.

Website
This is an alcohol-free event and supper is provided for a gold coin donation.
---
MUSIC BY THE SEA CONCERT SERIES
Presents: JEFF LANG - album launch
Saturday 6th MAY, 7:30pm
In a career spanning twenty- five years and at least as many recordings, Alone In Bad Company is Jeff Lang's momentous new album which presents the most organic union of Lang's talents and influences yet. Released through ABC Music on February 24th this year Alone In Bad Company is filled with exquisitely sung stories and melodies demonstrating that, Lang is nothing if not a lover of song.
Sandgate Town Hall, Seymour Street, Sandgate.
Tickets: Adult $40 - Concession $35.
Detailed programme information + Tix available online at www.musicbythesea.com.au
---
ALL DAY BREAKFAST STRINGBAND IN KYOGLE
Canadian oldtime music outfit, the All Day Breakfast Stringband, will play the Kyogle Memorial Hall on Tuesday 9th May as part of their 2017 Australia-New Zealand tour.
The All Day Breakfast Stringband, based in Montreal, features Max Evans on fiddle, Matt James on banjo, Andrew Kobus on mandolin, and Dara Weiss on guitar.
These young musicians honed their skills playing music from southern and Midwestern USA in the wilderness of Quebec and Ontario. They have been awarded in the Traditional Band category at the Appalachian Stringband Festival in Clifftop West Virginia in both 2013 and 2014, in a competition attracting old time musicians of the highest international standing.
After performing their first Australian shows at the Lost Highway Festival in Karuah NSW, the band will stop in Kyogle for their only Northern NSW/South East Queensland performance, before heading to Far North Queensland. They will perform a final NSW show at the Food Angel Cafe in Dorrigo on their way back to Victoria.
The event will be hosted by Watling & Bates, who will open the show with some original tunes. Popular local band The Barkers Vale Brothers will be the support act, with The Marvelous Gareth Bjaaland taking the role of MC for the evening.
The show will recall the heyday of the now-disbanded Kyogle Acoustic Music Society, through which Kyogle earned a place on the Australian international touring map for oldtime and bluegrass musicians.
Food will be available at the Sugar Bowl Cafe and Bar, which will open for dinner before the show, and also during intermission. The Sugar Bowl is a licensed venue and will offer a special All Day Breakfast Dinner Deal discount for pre-sale ticket holders.
Tickets are $25 for general admission and $20 for concession holders. Pre-sale tickets are available online at BOOKINGS; or in-store at Macdades Homewares in Kyogle.
DOORS open 6 pm for a 7 pm start.
In the hope that the event may inspire young local musicians, under 18s are welcome to attend for free when accompanied by paying family members or guardians.
Further information on the All Day Breakfast Stringband can be found at alldaybreakfaststringband.com
Watling & Bates can be contacted for enquiries on 02 6636 4342 or by
---
SATURDAY NIGHT LIVE with ZUMPA
Presented by Studio 188 Ipswich, 188 Brisbane Street, Ipswich, Queensland 4305.
At Studio 188 Ipswich Saturday Night Live Music lovers can enjoy an exciting and diverse mix of live music concerts performed by exceptionally talented musicians from across the globe.
Offering an experience like no other, Saturday Night Live brings world-class music to Ipswich for one-of-a-kind performances.
ZUMPA: Be transported with Zumpa to forgotten Italian fishing villages, moonlit olive groves and a hard life under a hot sun where peasants play music to celebrate life with a fierce sense of humour.
David De Santi (accordion), Kristy Stanfield (vocals, guitar, accordion), Gareth 'Garetino' Mewes (fiddle), Mark Holder-Keeping (clarinet, saxophone) and Andre Bonetti (percussion) provide the sounds and energy of folk, gypsy and Italian world music woven together to provide a truly spaghetti and meatballs experience.
They will play a selection of old and new Italian folk songs such as Santa Lucia, Funiculi Funicula, Bella Ciao, Tu Vuo Fa Americano and throw in some lively tarantellas and melancholy serenades.
LINKS:
Facebook:Zumpafolk
Youtube
Reverbnation: Zumpa
Sat 13 May, 8pm.
Tickets $25.00 | Table (of 4) $72.00
Tickets from: Studio188: Bookings
---
MUSICA ITALIANO STYLE IN BUNYA
Music by Zumpa, support by Lizzie Flynn (singer-songwriter).
WHAT: Afternoon House Concert at the 'palazzo' of Judy and Matt in Bunya, north Brisbane.
ZUMPA: Be transported with Zumpa to forgotten Italian fishing villages, moonlit olive groves and a hard life under a hot sun where peasants play music to celebrate life with a fierce sense of humour.
David De Santi (accordion), Kristy Stanfield (vocals, guitar, accordion), Gareth 'Garetino' Mewes (fiddle), Mark Holder-Keeping (clarinet, saxophone) and Andre Bonetti (percussion) provide the sounds and energy of folk, gypsy and Italian world music woven together to provide a truly spaghetti and meatballs experience.
They will play a selection of old and new Italian folk songs such as Santa Lucia, Funiculi Funicula, Bella Ciao, Tu Vuo Fa Americano and throw in some lively tarantellas and melancholy serenades.
LIZZIE FLYNN: (aka Elisabetta). With a combination of lyrical honesty and charming melodies, Lizzie Flynn writes songs that blend a little satirical storytelling with a lot of joyful emotion. She has been a vocalist and songwriter for a variety of bands and theatrical productions and has toured throughout Australia.
DETAILS: Sun 13 May, Doors at 1pm. Music from 2pm till 4.30pm
Glass of prosecco on arrival - BYO more alcoholic drinks.
Nibbles with Italian flavour BYO a chair, rug.

BOOKINGS ESSENTIAL WITH PRE-PAYMENT: Tickets $20 per adult, $10 youth (U18)

For further details call David De Santi 0409571788
---
FOLK ALLIANCE AUSTRALIA WINNER YOUTH ARTIST AWARD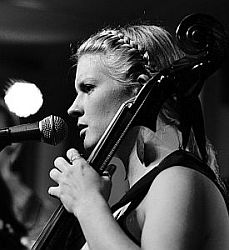 Local Brisbane cellist and songwriter Monique Clare wins Folk Alliance Australia's Youth Artist Award
Monique Bartkowiak only launched her solo career two months ago, but has already gained national recognition for this unique project. Performing under the name "Monique Clare", she writes songs and accompanies herself on cello. Last week she travelled to the National Folk Festival in Canberra as one of 10 finalists in the Folk Alliance Australia's Youth Artist Awards. She is now joining a line-up of previous winners who have gone on to tour internationally, including the The Mae Trio, Oh Pep! and Brisbane's own George Jackson.
About the award:
The award is decided at the FAA's showcase event at the National Folk Festival. 10 acts from all over Australia, aged between 14-25, are chosen as finalists. Previous winners have included The Mae Trio, George Jackson, Oh Pep! and Kaurna Cronin who have all gone on to tour internationally. The award includes 12 months of mentorship from the FAA, and opportunities to perform at national festivals.
FAA website - National Folk Festival website
About the artist:
Bio: Monique Clare is a cello-wielding songstress, hailing from the foothills of Mount Coot-tha. Between ongoing explorations into Scandinavian and American traditional folk, a classical cello degree and a Beyonce obsession, her beautifully quirky songs are a melting pot of eclectic influences. Gripping vocal lines are woven between earthy cello tones, born out of old traditions but injected with fresh, unconventional ideas. This year sees her embarking on a solo project as the FAA's Young Folk Artist of 2017, after years of playing in various folk bands including The Mulberry Collective and Rhiannon & Monique.
Career and education highlights
Received grants in 2016 from the Australia Council for the Arts and Queensland Government to attend folk music camps in the USA for three months.
Has performed in various folk outfits (The Mulberry Collective, Rhiannon & Monique (member); Maja, The Viola Cloning Project, The String Contingent and Hanneke Cassel (guest)) locally and at folk festivals across Australia, such as Woodford, The National Folk Festival and Port Fairy Folk Festival.
Bachelor of Music from the Queensland Conservatorium. Graduated with a Griffith Award for Academic Excellence. Won the 2015 Vada Jefferies award for best performance of solo Bach.
Performed and taught music at the Afghanistan National Institute of Music, as part of the String Contingent in May 2016
Has played in the Australian Youth Orchestra at the Sydney Opera House, Hamer Hall and QPAC
Will soon be travelling in America again, to play a show at legendary Boston venue Club Passim, return to Miles of Music camp, attend Sierra Fiddle Camp on a grant from the Williamson Foundation for Music and to attend the Shasta Music Summit. She will also be recording a short debut EP with Patrick Laird, sound engineer and cellist from The Break of Reality.
Was a cello tutor in 2016 at Australia's two major fiddle camps: Stringmania and Sunshine Fiddle Camp. Will be returning as a tutor for both camps this year.
---
SOUND BUILDERS EXPO AT MAGDA COMMUNITY ARTZ
An event for your diary: Sound Builders Expo at Magda Community Artz, 15/16 July 2017 - an exhibition of handcrafted musical instruments by some of Australia's finest luthiers, curated by Doug Eaton and Dale Jacobsen. Exhibition is free. Saturday night unplugged concert $20 ($15 conc). All details at HERE - soundbuilders.org and Facebook: soundbuildersexpo Enquiries: Doug and Dale See the POSTER.
---
GOOD TUNES SESSION WEST END
7.30-9.30pm, Thursdays fortnightly.
At The Burrow, 52 Russell St, West End. (David Di Santi 0409 571 788)
WHAT:
- BYO acoustic instrument to play wide range of traditional style folk tunes from around the world.
- We'll play through jigs, reels, polkas and waltzes and more from all over the place including
Ireland, Scotland, Italy, Spain, France, Quebec, Australia, England, USA, and Scandinavia.
You can see a sample of the tunes at: www.goodtunes.com.au
- All levels of musicians are welcome to join in … - The aim is to have fun and get everyone playing.
HOW:
- I'll have copies of the Good Tunes Book (with 157 tunes) to use.
- The tunes are written as single line melody and with guitar chords.
- You can also just use your ear if you wish.
FOOD AND DRINK:
There's plenty of great food available at The Burrow - pizzas, burgers, salads and drinks available include a huge range of bottled craft beers, ciders, and alcoholic ginger beers See: www.theburrowwestend.com.au
THE PLAN:
The plan is to have the session fortnightly. Join the Facebook page HERE to keep up to date with coming dates.
Upcoming Sessions:
30 March
13 April
27 April
11 May
25 May
So would love to see you there for a few good toons and fun.
Bring your friends if they just want to listen and enjoy the atmosphere, food and drink.
---
MICHAEL FIX: NEW ALBUM
Bending Air is available HERE (Secure purchase with PayPal or Credit card via a link there.)
If you prefer to download - its not yet available on itunes, amazon etc - but it is on CD Baby. It is being released and distributed in Europe by my friends at Acoustic Music Records
Facebook: Website
---
FOLK ALLIANCE AUSTRALIA SMALL GRANTS SCHEME
Folk Alliance Australia is pleased to announce a new initiative:
---
RADIO VALE FAB FOLK AND BLUES
Exclusive special reports and interviews from our Antipodean Correspondents,
Sadie and Jay.
The interview begins at 1hr 17mins in - simply jump to there. 'The Goodwills' - LISTEN HERE.
---
THE FOLK CHOIR
Do you love folk singing? Join The Folk Choir in 2017 for an uplifting and satisfying year of singing in harmony.
The Folk Choir began in 2013, and we're currently singing traditional and contemporary folk songs like Twa Corbies, Unison in Harmony, Lowlands, Hey Rain, Hillcrest Mine, and shanties and rounds.
The Folk Choir, Thursdays 7.15 - 8.45pm
at Red Hill Community Sports Club, Fulcher Rd (next to Broncos), $15.
Visit the Folk Choir website.
---
CLUB ACOUSTIC MALENY RSL
First Thursday of each month, $5 admission
for a blackboard evening plus a featured band each month.
Contact Jacinta Foale or 'Sparky' Paltridge for more details
Club Acoustic Maleny RSL
---
WOODFORDIA TOURS THE EAST POINTERS
Video Clip: East Pointers on Youtube
For details visit this Website: East Pointers Australia Tour
---
Order From Airit Here
Download Media Release & High Res Images Here
Download Broadcast Quality MP3 or WAV Files Here
Hailing from Aberdeen, Scotland but now a Queensland native, folk electronica artist Innes is all set to independently release two new tracks: Green Morning and The Donald Train - Part 1 from his forthcoming solo album Bits.
From folk roots to metal and bluegrass to electronica, Innes musical past tells a vast story of genre and one that exudes assortment. Growing up in a traditional Scottish family, with his sister (a fiddler) and his brother (a bagpiper), Innes' obsession for thrash metal was always unorthodox.
While studying medicine at university Innes was exposed to the exploding 90's UK electronica scene and spent his nights at underground techno clubs in admiration; I took to the strange new music like a duck to water - exciting, other worldly sounds that seemed to be turning dials and knobs inside my head and pulsing repetitive beats that entranced me, dancing on the spot, for hours – Innes.
After graduating from his medicine degree Innes moved to Australia, became a citizen and started dabbling in bluegrass whilst simultaneously rekindling his passion for electronica.
Inspired by Nick Drake, and named by Innes' 10 year old son, Green Morning is the opening instrumental single to the upcoming 10 track album Bits featuring fiddle by Gareth Mewes and bit crushing, a type of digital distortion which makes the music sound like its breaking into bits. The second single The Donald Train - Part 1 comes post the shock results of the recent US Presidential Election, the first of a trilogy to be released with 'Bits'.
A practicing GP in his other life, Innes has also released accompanying clips for both tracks which he independently shot and edited in a back room behind his surgery on the same computer he used to construct the album and make the artwork.
Bits is set for release Feb 2017, head to www.innescampbell.com to download both new singles and keep up to date on upcoming shows and everything Innes.
'The Donald Train - Part 1' Clip Here
Watch 'Green Morning' Clip Here
---
ASA BROOMHALL NEW ALBUM
Release March 1st. The Heat and The Rain
Asa's 5th independent album; 'The Heat and The Rain' will be available both digitally and in good ol' Compact Disc form from March 1, 2017 with shows starting March 18th. In the meantime have a listen to the tracks at asabroomhall.com check out the gig dates and we'll see you out there...
---
THE NEXT TARA FOLK FESTIVAL
With the management of the Wieambilla South Country Club, the 9th 10th and 11th of JUNE.

The club is located halfway between Chinchilla and Tara on the Western Downs of Qld. It is about a 4 hr drive west from Brisbane. The club is on google maps.

This will be our third festival, and the venue is great: A small bush club with bar, and all amenities, showers, meals, toilets, plenty of camping space for tents and caravans. There are no headline acts, unless someone jumps out of the woodwork, but there are a core of great Folkies and several travel from afar to be with us for the weekend.
The hospitality is second to none, it's free too! The meals are reasonably priced, and good quality, and there's a bar. A great beer garden, with fire pit, and a large shed adjacent with power for our Saturday night Blackboard Concert.
Of course, jamming is encouraged and could happen anywhere.

The address of the Wieambilla South Country Club is 21 Billabong Ln Tara 4421 Qld. It's a 20 minute drive to Tara on bitumen road if you need supplies. Tim Galli's mob ph. is 0428130768 or for queries do

We anticipate some early arrivals on Friday, and it's a great warm up for Saturday.
It would be great to see some old faces and hopefully a few new ones.
Check out FACEBOOK
---
EMILY WURRAMARA NEW SINGLE
Hey Love
As a proud Wannadilyakwa woman, a deep love for her country alongside a desire for change, is the reasoning behind Emily Wurramara choosing the week leading into Australia Day to release her most personal song to date 'Hey Love'.
'Hey Love' was recorded at home by her good friend Guy Webster, in her own words: Music is heard and felt. Hey Love is a song based on a true story about my mother and an incident that happened to her when she was in her first year of boarding school. Covering themes from racism and bullying to empowerment, I chose to release Hey Love leading up to Australia Day to highlight the fact that racism and ignorance is still around. And because to heal we must speak the truth and raise awareness. Not in a harsh way, but to know this is what happened, that we're bouncing back from that, and we're still going to fight.
Listen to 'Hey Love' song: SOUNDCLOUD.
---
Our 4th Album "After The Rain" is finally complete and we're bursting at the seams to get out on the road to share with you fine folk, we are only the pioneers of this music and hope that you will indeed be the wonderful crowd that you are and have been in the passed to share the word and indeed come to the shows. 
Starting from the 18th of January in Australia all the way through till March when we will be preparing to head over seas for our end of April, to end of May album launch.
Also we are delighted to share with you the new youtube video: https://youtu.be/1XlDxjbwtsw

Whilst we are on the road we'll be collecting clips of video footage for the up and coming shows where we have the pleasure of many choirs who have kindly volunteered their time to join us on stage.
We did an experiment where we asked through social media if there were any singing groups out there that would be keen in accompanying us on the road at certain venues around Australia and singing our songs with us in 3 - 4 part harmonies.
The response was overwhelming and we now have had a number of choirs and singing groups coming together who have never sang with each other before to join in harmony, sometimes making up to 50 voices.

Please feel free to catch up on the reviews of the new album here:
http://bit.ly/eastsidefm
http://bit.ly/acousticmag​
http://bit.ly/countrymusicpeople​

---
BAYSIDE BUSH DANCE WYNNUM
3rd Saturdays, 8pm - 11pm
at the Waterloo Bay Leisure Centre , Tingal Road, Wynnum.
All dances will be called/taught on the night, music will be provided initially by a core group of Mary Brettell, Derrick Chetwyn and Terry Jacob. (in alphabetical order).
Admission: $15.00 / $10.00 conc. accompanied children under 15 free. The canteen will be open for tea and cakes, or a 'toastie' if you miss dinner, for a very reasonable donation to the venue. No alcohol will be sold but consumption is not verboten as long as behaviour is sensible and you take care of your rubbish. The focus will be on FUN and friendship.
The forward dates are 19th November and 17th December.
Further information if necessary Phone: 07-3396-5846. See Here.
[top]
---
BILL SCOTT DOCUMENTARY - HEY RAIN by ABC TV
This documentary has been placed on YouTube where it is available for all to enjoy.
For over half a century, Bill Scott travelled this country with his eyes and ears open, collecting folk material and writing stories, songs and poems and in 1992, Bill was awarded the OAM for his services to Australia folklore. He was a 'folkie' for over 50 years, who wrote and edited over thirty books of poems, short stories, biography, fiction and fact for adults and children.
He is story teller. He is Bill Scott. And this is his song.
YouTube: Bill Scott Documentary Thanks to Mavis and Harry Scott.
---
Nostalgia out of the 1970's:
Jolly Rumbylowe was a Brisbane based group of five musicians, namely,
Don Nichols, Marty Gallagher, Alan Forshaw, Liz Thompson, and June Nichols.
Visit: jolly-rumbylowe-untitled-album
---
CONTRA DANCE, WHAT IS IT?
For any who may be wondering, Contra dance originated as English Country Dance.
In the 1700's it got exported to France by the name of Contre Danse, then in turn this was exported to the US becoming known as Contra. By and large the dances are danced in long lines of couples. The stepping is a walk but the moves flow into each other to become almost hypnotic after a while.
Even if you're not a dancer, it's very easy to get into, and the music is great! It's a full scratch band of folkie type musos and the dance moves are all walked through first. - Paul B-R
2pm - 4.30pm. Uniting Church Hall, cnr Kingsley Pde & Kadumba St, Yeronga. Live music, $4 to cover costs. All Welcome, Musos very welcome too. Please invite anyone you know who may be interested (Dances will be called). Enquiries: or call Paul: 07-3395-8956
---
MEREDITH JAM CAMP
Held in Meredith, VIC. Some Brisbane and surrounds people attend this event each year.
For those who are not already aware of this event, the camp is a structured bluegrass jam camp catering for beginner and intermediate players with a full programs of workshops and jam sessions. The camp is held in Meredith, VIC on a beautiful property. Full camp details can be found at www.meredithjamcamp.com
---
VISIT REDCHAIR FOR EVENTS
Sunshine Coast Guitar Orchestra; Flamenco events;
and some of your favourite artists in many genres.
www.redchair.com.au
---
THE CEILIDH CLAN
A Brisbane based collective of musicians dedicated to supplying traditional Scottish music and dance,
for events (weddings, festivals, parties, celebrations, Scottish events etc) that require an authentic Scottish touch.
Website: The Ceilidh Clan and
---

1st & 3rd Sundays 1pm - 4pm
Finbar's Lounge Bar
12 Bicentenary Lane, Maleny Free Entry
Musicians and Audience Welcome
Tunes played include BBS, NFF Session Experience, Maleny Tunes Class &
other common tunes at a moderate pace. Playing by ear encouraged.
More Info: Kate Fraser 07 5499 9172
Maleny Tunes Class - Wednesdays
Maleny Presbyterian Hall, Cedar Street, Maleny
Mainly Irish Tunes taught slowly by ear, slower and more advanced learning catered for.
www.malenytunesclass.blogspot.com.au
---
Click image


---
---
GRILL'D WEST END OPEN MIC TUESDAYS
OR
CHIPS & TUESDAYS…
Hi Brisbane friends! I host an open mic night every Tuesday in West End
If you have 15 - 30 mins of material that you would like to share in a very supportive setting let me know! This is a family friendly restaurant so kids welcome.
Venue: Grill'd West End, 88 Boundary Street, West End 4101. 07-3255-3057
The owners of Grill'd, Dave and Colin, are committed to supporting live original music, which is fantastic… covers welcome too. So if you would love an audience to play to and don't mind a burger as a thank you, give me a hoy.
Tell your friends… and come along and support this worthwhile event, sing your songs, even some covers.
---