[ HOME ]


FESTIVALS & MUSIC GATHERINGS
---
| Maleny Music Festival |
| Neurum Creek Festival |
| Gold Coast Acoustic Music Festival |
| Maidenwell Gathering |
| Dorrigo Folk & Bluegrass Festival|

| *** WFF NEWS and PLANTING FESTIVAL *** |

---
MALENY MUSIC FESTIVAL
September 1st – 3rd 2017.
Tickets are available on the FESTIVAL WEBSITE with our barcode ticketing system and at $90.00 for the 3 days are certainly a great deal.
Some acts already confirmed are Martin Pearson, Linsey Pollak, The Fergies, Asa Broomhall, Bruce Watson, Hailey Calvert, Barleyshakes, Fat Picnic, Gone Molly, Lizzie Flyn, Tin Star, Sadie & Jay, Montgomery Church, The Balkanics, The Pockets and Dave Orr Band.
Camping in the showgounds in a village atmosphere is a great way to spend the first few days of Spring. With concerts, workshops. food and market stalls, licensed bars, poet's breakfasts, session tent, dance bands, late night cabaret, slam poetry concert, blackboard concerts, Friday night Bush Dance there really is a full weekend lined up for people to enjoy and participate in.
This year Sunday will be themed 'It's A Little Bit Country' and will feature a couple of Alt Country and traditional performers. Two notable names are Kevin Bennett (CMMA Golden Guitar Winner and Aria nominee ) from the band 'The Flood' and Maleny's own Kelly Cork who won the Australian Songwriters Open Category Award in 2016.
This 2017 festival will be linked in with Maleny Art Street which is part of Sunshine Coast Council's Horizons Festival so Maleny will alive with Music and Art on the first weekend in September.
Up town there will be exhibitions in Cafés and Galleries, Open Air Photography, Food As Art in local Cafés, Open Studio Events, Public Art Installation and a Forest Art Trail along the boardwalk that leads from the Showgrounds to town. We are planning to do a Bushdance in the Maleny R.S.L. on Friday night for both events.
This event was one of the reasons for the date change for this year's Festival.
Volunteer Applications on are the Website with our new application system.
On behalf of our organising group, here's to some happy festivals - 2017 Maleny Music Festival 1st - 3rd and Neurum Creek Music Festival 8th - 10th
Programme and Details | PRINTABLE Programme
[top]
---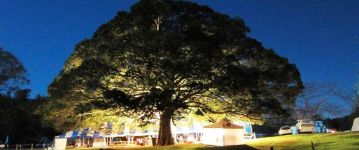 NEURUM CREEK FESTIVAL
This year the festival will be held on the 8th, 9th, and 10th of September
The festival is coming up quickly - have you booked your tickets online yet? Here's a sneak peak at what will be happening over the weekend.
Performers: If you've been following us on Instagram and Facebook, you'll have seen the one-by-one performer reveals for 2017.
Now you can go to the website and read about them all - and there are still a few sneaky ones to come
Festival tickets now on sale! Bookings are now open for the 2017 festival, and can be booked online at
Neurum Creek Bush Retreat: ncbr.com.au and Note that invoices must be paid in full within 48 hours.
Ticket prices as follows:
WEEKEND TICKETS: Adult $80, Child School Age (Primary & Secondary) $40.
** All weekend tickets include camping **
DAY TICKETS: Adult Day Ticket Friday or Saturday $45, Child Day Ticket Friday or Saturday $25.
Day Ticket Sunday $30, Child Day Ticket Sunday $20
Want to lend a hand?
Ever wanted to work at the bar? Sell CDs? Screen print t-shirts? Or fold up an enormous backdrop and squash it into a tiny bag?
We have a small number of volunteer positions available at the festival, so if you'd like to help out,
Keep up with all the News, Don't forget, you can like us on Facebook and follow us on Twitter to stay abreast of all the latest festival news.
Visit the Festival Website at: www.neurumcreekfestival.com Download the trad Songbook HERE!
---

COAST ACOUSTICS MUSIC FESTIVAL, GOLD COAST 2017
Come to the Gold Coast Acoustic Music Festival on 16th September.
Coast Acoustics Festival Fundraiser, Lizzie Flynn CD Launch! Friday September 15th!
7pm - 10pm. $10.00 for Members $15.00 for Non Members at the festival site, see below. BOOK NOW!
We are making this a more manageable event this year, but we still require volunteers to help
both in the planning stage, and on the weekend.
See the "Festival poster"
Yes! We're getting ready for a big day Country Paradise Parklands, Nerang.
Saturday September 16
Who is the big act of the day? We'll let you decide.
International touring acts and interstate guests.
Junk Percussion, Middle Eastern Grooves,
the LOUDEST MIME you've ever seen
Ukelele ladies fashion
MZAZA, Junkadelic Brass Band, ROSIE BURGESS TRIO, The Loveys,
ANGELA TOOHEY TRIO, Mandolin Falls, NO TENSION, Presidential Blues Band…
Mister CHUCK & Missy CHRISSY, Ann Leung, OUT of ABINGDON, there's more…
Bluegrass, Folk, Rockabilly, Jazz, Blues, Ukes, …fashion?
Workshops and information, stalls, food, friends and community.
Music from 11am (great sound)
Open Mic is walk-up, plenty of spots available.
It's FREE and parking is convenient and cheap, $5 per vehicle.
Children's activities, community stalls, Bar open from 12.30, Good food street.
If you have any special skillsets that you think could be utilised, then
please send an and let us know.
It's your festival as members, and we want to make it all about you!
Facebook-follow | Website | Download the printable Festival Programme 2017.pdf
[top]
---
MAIDENWELL FOLK GATHERING
NEXT event: Queen's Birthday long weekend Friday 29 September to Monday 2 October, 2017.
Facebook: Maidenwell Folk Gathering Sept-Oct 2017 for details.

See you Friday 29 September 2017 for a fabulous weekend-long acoustic music jam! Tell all your friends and encourage those who may have missed this event in their calendar. The gathering is held at the Maidenwell Hotel, Maidenwell which is a small township at the gateway to the Bunya Mountains.
This bi-annual event is organised by acoustic music lovers and hosted by Hotel Publicans Debra and Alan.
Camping is provided FREE behind the pub and there are toilets and showers available to campers. The camping area is spacious and you do not need to book, just turn up and set up. It is recommended that you bring your own drinking water.
The pub does excellent meals (lunch and dinner) and has EFTPOS facilities.
There is also limited accommodation available at the pub – ring Alan or Debbie for more details 07 4164 6133.
Breakfast is available at the Maidenwell Trading Post, across the road. The Trading Post also sells fuel and has basic food and toiletry supplies, newspapers, ice-creams, cold drinks etcetera.
The event officially starts Friday evening with a jam in the pub after dinner.
: there is jamming in and around the pub and the camping grounds.
SATURDAY NIGHT our lovely Publican will be hosting the infamous PIG ON THE SPIT DINNER at the pub - yum!!
$17 per person, and there is for $12 a ROAST VEGETABLES only option.
SUNDAY: Sunday morning there will be a Gospel singing session under the fig tree,
followed by the totally hipster Bluegrass Morning tea and tunes.
SUNDAY EVENING:. Spread the word friends - will be this year's spectacular MAIDENWELL BLACKBOARD CONCERT!
Yes, that's right, Sunday night you need to get on your glad rags and come join us from 6pm.
Strictly no BYO – please purchase your alcohol from the pub.
This event, begun by Glen Donald over a decade ago, has been growing in recent years and is truly a wonderful, musically diverse acoustic gathering. The event has the full support of the publicans, the local community and local musicians.

GETTING THERE:
Maidenwell, gateway to the Bunya Mountains is on the Kingaroy-Cooyar Road.
● From Toowoomba or Warwick, go straight up the New England Hwy. About 5 or 6 km past Cooyar,
there's a sign for MAIDENWELL. Turn left - about 10km.
● Gympie/North Coast: a very nice one-and-a-half hour run through Nanango.
● Brisbane: come up the Brisbane Valley either through Ipswich/Esk
or Caboolture/Kilcoy as far as Yarraman, then take the
Toowoomba turn-off south onto the New England Highway.
Photos and videos of past events: Maidenwell Folk Gathering are available on Facebook
and search Youtube for "Maidenwell Folk Gathering" videos.
( See Dateclaims )
See you there!
[top]
---
DORRIGO FOLK AND BLUEGRASS FESTIVAL
27th 28th 29th October 2017
Come celebrate 16 years of Festivities with us, there is still time to book your tickets
and start planning your weekend on the Dorrigo mountain, five hours drive South of Brisbane.
This year we again have a stellar line-up of performers.
One of Dorrigos priorities has always been to provide a family friendly weekend, so our festival is a smoke, drug and alcohol free event. A perfect chance to escape from the pace of todays life and immerse yourself in a weekend full of music and song from the toe-tapping to the sublime.
And this year we are trying to do our part by having manned rubbish stations on site, we will be encouraging our patrons and all on site to be responsible with their rubbish.
Find out lots more by visiting the website at
www.dorrigofolkbluegrass.com.au -- and here for BOOKINGS
[top]
---
WOODFORD FESTIVAL NEWS
First, thank you for your incredible support last year. It was our biggest - and dare we say it - 'our best' festival in our history. The festival was the cleanest, most respectful, most energetic and beautiful we've seen - you are the best.
Ticket sales are online for our Woodford Folk Festival. We encourage you, more than ever, to pre-purchase tickets and pick up the early bird ticket savings. Early Bird 1 (EB1) tickets for the 2018 Festival went on sale to the public on Tuesday 1 August 2017. Get in early to secure your tickets at the best possible price.
Because of our growing popularity, we've made big changes that you need to know about. We've summarised these here but you can click on the links shown for a deeper narrative on these changes.
To protect our festival's comfort levels and beautiful spirit, we are capping all tickets to the festival. The New Year's Eve cap will be set at the same attendance as last year.
All tickets must now be purchased online - even day passes during the festival. Tickets will NOT be available for purchase at the festival gates.
Tickets are more expensive this year. It has to happen.
Everyone with vehicles will now need to buy a vehicle pass. This aims to free up shaded camping space and reduce traffic volume.
Payment Plans are now available for Day Tickets as well as Season Tickets. www.flickr.com
For more information on the festival including earlybird tickets and camping options please visit www.woodfordfolkfestival.com
[top]
---