CONDITIONS AND TERMS FOR ADVERTISING IN THE FOLK RAG
Entries in this section are for small ads and are FREE but if you sell an item we would appreciate a donation to the Folk Rag.
We run items in this section for 3 months then remove them. You must confirm if you want to extend the running time.
Please notify us if your item has been sold or your ad is no longer applicable
Thank You. Ed.
---
NOTICES
---
WANTED: In-person introduction to the Melodeon somewhere in Brisbane if possible please:
---
WANTED: Short in-person introduction to the Autoharp somewhere in Brisbane. Happy to pay intro-lesson rates. If possible please Thank you!
---
SINGERS SOUGHT FOR A WORLD MUSIC A CAPPELLA GROUP. I'm looking for people to sing. There's quite a lot of material. So if you love singing world music, are interested and can read a little, then please .
---
YERONGA CONTRA DANCES. Anglican Church Hall, corner Killarney & Cork Streets, Yeronga. 2pm-4.30pm Then 1st Sat each month Called Contra dances, Band, Afternoon tea. Just $4 for dancers, musos free. See the Calendar page for dates.
---
COOWONGA FOLK CLUB in the Cawarral and Rockhampton area. Anyone in the area when we have an event are welcome Check - www.coowongafolkclub.com
---
OLD TIME MUSIC JAM at Moorooka from 6:30pm. 1st Fridays each month. More info: Call 0421983041 or and check out the Facebook group: Appalachian / Old Time music Brisbane Anyone Welcome!
---
VISIT Lifelong Learning Queensland's on-line Directory of Adult & Community Learning, Education & Training opportunities in Queensland - www.llcq.org
---
COME RANT WITH US! South East North West Morris is looking for new dancers. In the South East of Queensland dancing Morris from the North West of England, donned in clogs and garlands we rant and skip for local festivals and fetes. Come and join our frivolity and get fit too. We are an equal opportunity side and cross-dressing is encouraged. Call Andrea 0438-655-876 or Kevan on 0413-856-785.
---
FAA INSURANCE
Folk Alliance can access public liability for members - musicians, clubs, bands and festivals at a very competitive rate. The public liability year starts June 1 to June 1 the following year. For further information visit www.folkalliance.org.au
---
FOR SALE
---
FOR SALE: HOHNER AMICA IV 96 BASS PIANO ACCORDION 3 years old in excellent condition. - 11 treble couplers, 3 bass couplers. 4 treble reeds LMMH. 3 bass reeds LMM. Factory fitted Blue Line midi system. Lightweight 9kg.
Comes with road case and detachable trolley wheels. Great compromise with the versatility of a 120 bass but weight and size of an 80 bass.
Over $6500 new, Asking $4100. Phone: Andrew 0409065266
---
ARMSTRONG HANDMADE GUITARS:, Brisbane luthier Andrew Armstrong provides highly personalised services focused on guitars and related instruments - handmade instruments, repairs, restorations and customising. Visit: www.armstronglutherie.com.au ph 0418 569 019 or on FaceBook: ArmstrongLutherie
---
TUITION
---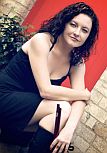 Classical & Irish flute, Whistle & Singing Lessons
with Sarah Calderwood
I am a singer, flute and whistle player in Brisbane-based Celtic band Súnas and Red Crow,
with 23 years experience of flute playing and singing. I cater to all levels of musicianship.
Lessons can be in person or via Skype.
First lesson is free to get to know you and/or your child and to determine your goals & aspirations.
Whether you would like to study for classical exams or simply learn for fun, I can help you reach your goals!
Enquiries: Please or 0417 633 212
See other Tuition Classes Here
---

GUITAR, MANDOLIN & UKULELE TUITION: From beginners to intermediate. Tailored to what you want to learn eg: for song accompaniment or with more theory. Music notation / tablature, chord charts, transposition. Flatpicking tunes, fingerstyle. Have Blue card.
For inquiries please call Julie Witney 0402-504-099 or
---
MORETON CELTIC FIDDLE CLUB, Moreton Celtic Fiddle Club meet on the Northside at Mango Hill Community Centre - on the 1st Friday each month from 6.30-8.30pm. Visit: Melinda Coles website - MCFC Website
We are a bunch of highly entertaining and energetic Celtic Fiddlers, Cellist and a few extras… MCFC are Community group of Dynamic vibrant entertaining Celtic fiddlers/cellists who perform Irish/Scottish/Celtic music. We not only play these tunes but also dance whilst performing. MCFC started in 2007 and is known for being one of most entertaining groups in the Celtic Fiddle Group scene. Performing Regularly at community and private events and functions as well as Celtic Festivals around the state.
The groups' growth can be attributed to the welcoming approach and the fact that our Music Director Melinda Coles teaches by dots and by ear encouraging members to then perform without music. Many of our members have had the opportunity to attend and perform at camps/workshops/masterclasses in Australia and overseas.
Musicians as young as 4 and adults as old as 80 join in and play together at performances. MCFC is very proud to say that they competed and took out the "Peoples Choice award" at the Urban Country Music festival 2014, 2015 & 2016.
---
NORFOLK CELTIC MUSIC CLUB, Norfolk Celtic Music Club meet on the Southside at Ormeau Community Centre - on the 3rd Friday of each month from 6.00 - 8.00pm. Visit: Melinda Coles website - NorfolkCMC Website
---
VIOLA DA GAMBA TUITION, Patrice Connelly, See Advert Saraband Music Phone: +61 (0)7 5496 3439, and visit the Website
---
IRISH WHISTLE TUITION: Celtic Style with sheet music or by ear. Embellishments, Breath, Rhythm and Fingering. Become a solid player. Video Lessons or on the Sunshine Coast. Inquiries to Aaron 0482528161 or Website
---
BLUEGRASS FIDDLE & MANDOLIN LESSONS: Beginner to Advanced - All ages. Private lessons and group workshops. Brisbane area.
Dan Kerin 0422 356 542 / www.dankerin.com
---
PROFESSIONAL DIXIELAND BANJO TUITION - Plectrum Style - Rob Crazy Bear Robinson 07 3348-8925 .
---
GUITAR LESSONS: Keith Urquhart is offering guitar lessons! Improve your playing and knowledge of the guitar, learn chord and song arrangements and fingerstyle playing. I'll help you work out how to play your favourite tunes. Give me a call on 07-3856-2707 or 0435-456-856. Rates are $25 for half hour or $45 per hour.
---


GUITAR LESSONS from TIM O'BRIEN. As an Acoustic Guitarist I enjoy being a musical mentor. My students deepen their understanding of the guitar while reaching towards the rich clear sounds we know the guitar can deliver.
For inquiries please or call 07-3879-860
[top]
---
Click image to visit Nadia's website


---
NB: If you find that any of these notices are no longer current please contact the FolkRag Editor -