[ HOME ]


Profile
(Note: javascript must be enabled to view and enable email links.)
---
AISLINN SHARP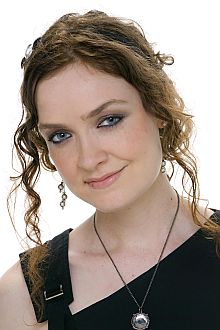 My name is Aislinn Sharp and I am a young Brisbane-born singer/songwriter on keyboard. In case you have not heard my name before, Aislinn is Celtic or Gaelic and means dream or vision. I've heard the traditional pronunciation in Ireland is ASH-lin, but sometimes it is pronounced ASH-LEAN in other parts of the world. However, my parents chose to pronounce my name AY-sa-lin, thinking it would be easier for people to say and spell. Unfortunately this alteration has not prevented my name from being frequently mispronounced and misspelt. Further would you believe in primary school, kids even tried to tease me by calling me Aslan like the lion in The Chronicles of Narnia! Personally I like the name Aislinn since it reflects my family heritage and is such an unusual name here in Australia.
While my musical aspirations are centred on becoming a professional singer/songwriter, my music story began in primary school with private lessons on alto saxophone and music theory. It was shortly after this time at about age 11 that I discovered song-writing and how much I loved it. At age 14, I began learning oboe as a second instrument. I continued playing oboe as my major study at the Queensland Conservatorium where I graduated with a performance degree. Interestingly, I had also been offered a position to study composition at the Conservatorium. However since I had never been taught to write music, I thought I would benefit more from regular oboe lessons and orchestral experience than receiving composition lessons. It was during my four and a half years at the con that I learned to play piano. Today I continue to write music for pleasure, predominantly contemporary and jazz influenced songs, which I perform on vocals and keys.
In recent years I have felt quite confident about my song-writing abilities, but I lacked the practical experience of singing and playing my own songs in front of new audiences. To be honest, going from a composer to a performing singer/songwriter was a challenging transition for me. At first I felt quite anxious about how other people would perceive me and wondered if anyone would like my music. Before 2008, I had only performed my songs a few times at small and mostly informal events. However in 2008, I mustered my courage and began playing my original songs at Folk Redlands during their chalkboard hour. Undoubtedly, the experience of regularly performing that year at Folk Redlands gave me the extra confidence and strength I needed to later step out and play at bigger and more public venues. I am thankful to Folk Redlands for their encouragement and support in making this important transition from simply being a composer to a performing singer/songwriter.
After participating in many concerts at Folk Redlands in 2008, I decided to branch off in 2009 and start my own not-for-profit music organisation called Sounds Original. My aim for starting Sounds Original was to create a supportive environment, similar to the one I had experienced during chalkboard at Folk Redlands, where song-writers of any genre, including folk could perform and share their own music with others. Since starting Sounds Original (SO) in March 2009, I have organised over 70 original music acts to perform at over twenty concerts. Our monthly residential concerts are held at the Redlands IndigiScapes Centre, Capalaba every fourth Sunday of the month, except in April due to the public holidays. Original songwriters are welcome to contact me on the SO website www.facebook.com/SoundsOriginal to organise a performance at Sounds Original. New performers are always welcomed.
I believe my greatest achievement with Sounds Original was last July when I organised a charity music concert at the Victoria Point Sharks Sporting Club. The concert was held to raise money for a communication device for a young boy who is confined to a wheelchair with Cerebral Palsy Spastic Quadriplegia. I truly believe one person can make a positive difference in the world. After completing a Bachelor of Psychology in 2009, I believe one way I can make this change is by combining my music and psychology studies. For example, I would like to help musicians with motivational strategies, goal setting, managing performance anxiety and reaching peak performance. I am happy to be contacted by musicians and readers of The Folk Rag who would like to receive this kind of music-related psychological assistance from me in future.
My music has really progressed over the past 18 months in a couple of exciting ways. First, I have performed at many wonderful venues such as the Queen St Mall, the fondly remembered Inspire Gallery Bar (West End), Songwriters Network Queensland Presents... concerts at Kitty O'Shea's Irish Pub (ed: Now the Stadium Bar) and Bohemia Bar (Caxton St), the Elysium (Victoria Point) and of course The BUg. In future, I would like to be hired by professional societies and corporations to perform as an original music artist at functions and seminars, and also play at music festivals.
Second, I have been preparing and recording my first solo album titled On The Couch over the past 15 months, which is very exciting. To explain the title – On The Couch is in reference to the 'Father of Psychoanalysis', Sigmund Freud, who would invite his patients to lounge on his couch to receive therapy.
In relation to my forth-coming album On The Couch, my intention is to metaphorically invite listeners to lounge on the "Freudian couch", liberate their minds of repression and release their hearts of a wide spectrum of emotions and experiences, both positive and negative. My songs will cover themes such as relationships, personal desires and psychological and social issues. I believe I am open, honest, and personally invested into all of my songs. So I am hoping listeners will really appreciate and embrace the authentic way in which I approach song-writing and performing. Currently there are a few acoustic versions of my album songs available on-line, which can be heard at www.myspace.com/aislinnsharp
However, for latest development, the first track off my album is titled This Bridge Is Burnt!, and is available on i-tunes and may be heard at www.reverbnation.com/aislinnsharp. Further, I have planned a launch party for my first single on Thursday April 28 2011 at Bohemia Bar, Caxton St, Paddington starting at 7pm. It would be wonderful to have the support of the folk music community and to later on hold a special album launch party at a folk venue such as The BUg.
Aislinn Sharp